5 Small BUT Effective Ways to Increase your Website's Ranking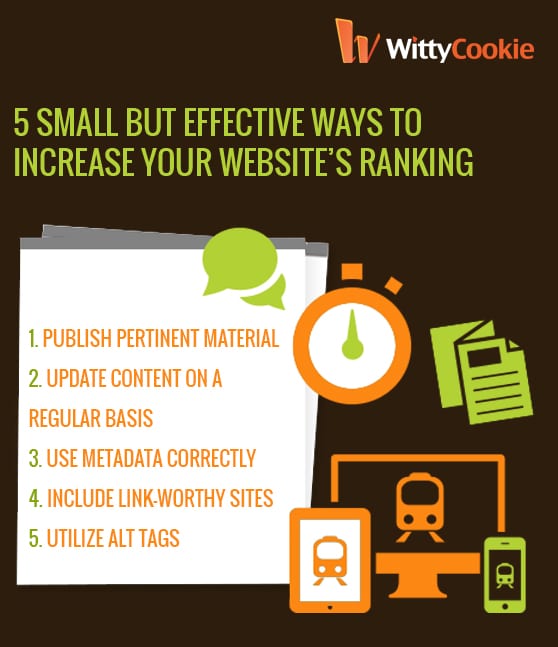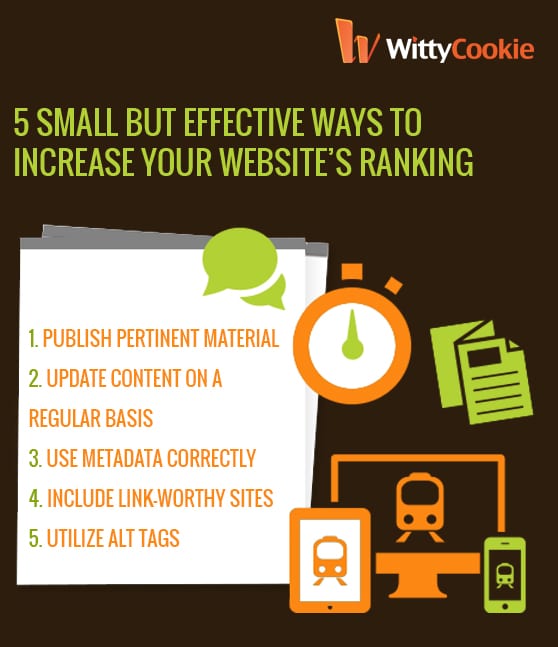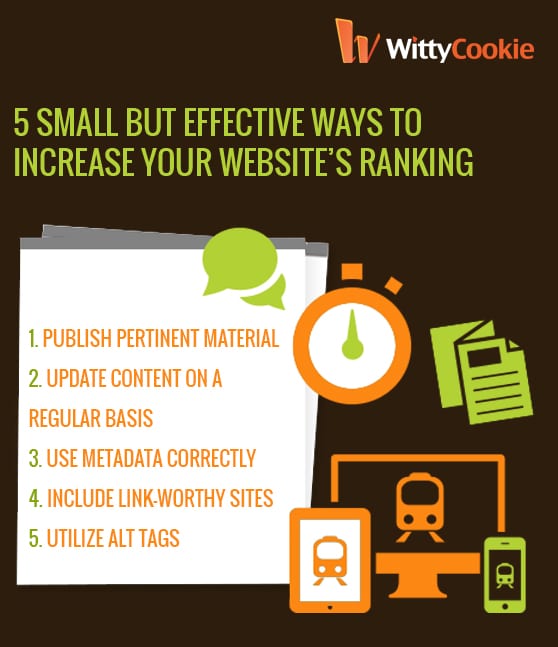 When you begin working on an online identity for your business, you will start by picking a domain name, implement web design and invest in code building. The efforts put in to develop a worthwhile website will deliver good results. However, if this website does not generate traffic, then your efforts will go in vain.
Use the following five techniques to improve your web rankings:
1. Publish Pertinent Material
Quality content is what drives search engine rankings. There simply is no substitute for exceptional content. When you create content specifically for your user, it increases website traffic which in turn also improves your relevance and authority.
Isolate a keyword phrase for every page. Consider how your target audience might search for this page. For example, a prospective college student might search for the phrase "mechanical engineering in New York City". Repeat these key phrases several times throughout your content. Do not forget to include italics, bold font, and heading tags.
NEVER sacrifice quality content for the purposes of SEO. The best content is written for your user, NOT for a search engine.
2. Update Content on a Regular Basis
Search engines feel pretty strongly about content. Content that is updated on a regular basis is the best indicator of relevancy. So when it comes to great content, follow the maxim: "Keep it fresh, keep it alive!"
3. Use Metadata Correctly
When designing your company website, every page will have a space between <head> tags where you can insert metadata (summary information about the page content). If yours is a CMS site, the UMC team will prepopulate the data for you. This will include:
Title Metadata
This section contains page titles viewed on top of the browser window. It is perhaps the most important metadata.
Description Metadata
This contains a textual description that is used by the browser in your page-search return. It is like your website's window display it contains an appealing yet concise description of what can be found within. The goal is to encourage people to proceed further.
Keyword Metadata
Keyword Metadata refers to search phrases that people will type when they want to locate your page. Use a variety of keyword phrases. Do not get greedy: using too many phrases may make the browser ignore your data. As a rule, use 6 to 8 phrases, with each phrase consisting of up to four words.
4. Include link-worthy Sites
Include relevant links to your content. Instead of putting "Click here" links, write out the destination name. For example, "Harvard Medical School Program". This phrase is rich in keywords, therefore it will improve search engine rankings.
5. Utilize Alt tags
Describe your video and visual media with alt tags or substitute text descriptions. This allows search engines to find your page, especially for people who rely on text-only browsers.
BONUS
Additional ways of improving web traffic are:
Publish relevant content on social media sites
Use paid advertising, i.e. Pay Per Click, Cost Per Acquisition and Retargeting
These are only a few but effective ways to increase your website's rankings. For more information about how you can improve your website's rank, contact Canada based Digital Agency WittyCookie today.