5 Vancouver Website Design Tips To Create A Beautiful Restaurant Site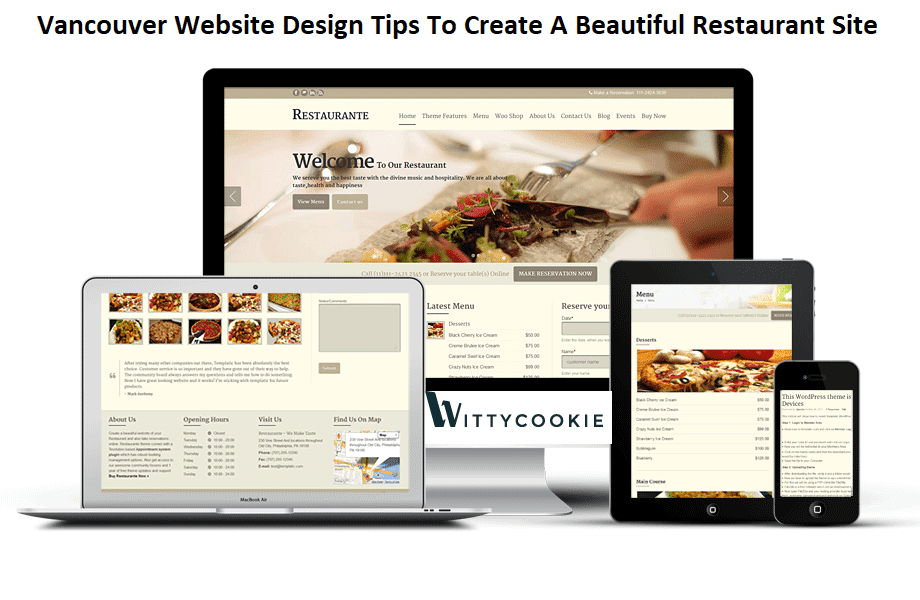 When creating a restaurant website with Vancouver website design, you need to make it appealing to your visitors. In other words, even before the customer enters your restaurant or reads the menu, they should feel tempted to visit your restaurant.
How do you create a stellar restaurant website? Consider implementing the following tips:
1. Use Stunning Photos
You eat with your eyes first! Think about it! If something doesn't look appealing, would you still eat it? You want your customers' to be tempted by your dishes. How do you accomplish that feat? By taking stellar photos of your dishes.
While it's tempting to take photos with your iPhone and post them on the site, we recommend hiring a professional food photographer. A pro would know how to work with lighting, focus and background.
In addition to the food, you want to convey something about your restaurant's ambiance and mood. Take plenty of pics of the dining areas, foyer, reception, etc. All the images should capture your restaurant's personality.
2. Create a Mobile-Friendly Website
More people than ever access information over their mobiles rather than their desktops. Imagine how many customers would miss out at your restaurant if it didn't have a mobile-friendly web design? Not having a mobile optimized site will lead to a loss of customers. Use the following guidelines to create a responsive web design:
– Make all the content accessible, even the menu
– Select easy-to-read sizes and font styles
– Ensure all the call to action buttons such as those needed to make a reservation are easy to use and accessible
3. Create an Easy-to-Read Menu
Avoid using a teeny, tiny font or PDF to display your menu. That would be rather impractical. Your menu should be organized logically and have an eye-catching layout. Avoid PDF attachments. Search engines won't be able to scan or rank them. PDFs create extra steps for your user. Your menu should be one click away!
4. Use Updated Information
Ensure you get the basic details about your restaurant right the first time. This includes the items on the menu, hours of operation, the address, directions to the restaurant, social media information.
If you fail to do so, your wait staff will be dealing with a lot of frustrated customers.
5. Use an Appealing Color Scheme
One of the best ways to grab someone's attention is to assault their senses with warm colors. A warm color palette stimulates hunger. Colors such as orange and deep red stimulate hunger and appetite. Think about all the fast food chains whose color palette is red and orange. Does it ring a bell? Many famous restaurants like McDonald's and KFC use reds and oranges in their branding efforts. This doesn't mean you can only opt for red and orange in your color palette. Just use it thoughtfully.
There are so many ways technology can enhance the hospitality sector. From Restaurant inventory management software that can be used to refine your menu, to digital marketing techniques that attract customers through your doors. Are you ready to create a memorable Vancouver restaurant website design Contact the pros at Witty Cookie.