Top 6 Popular SEO Trends of 2016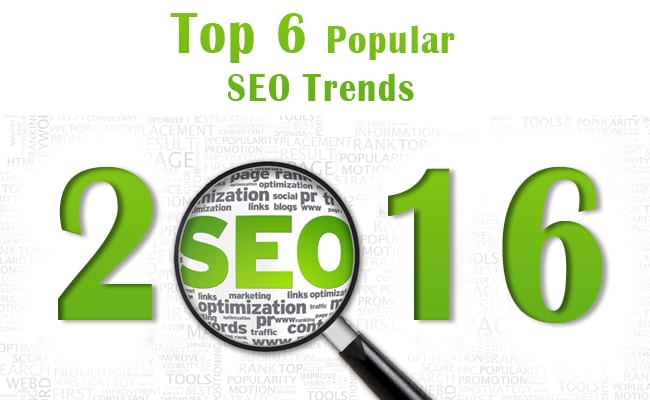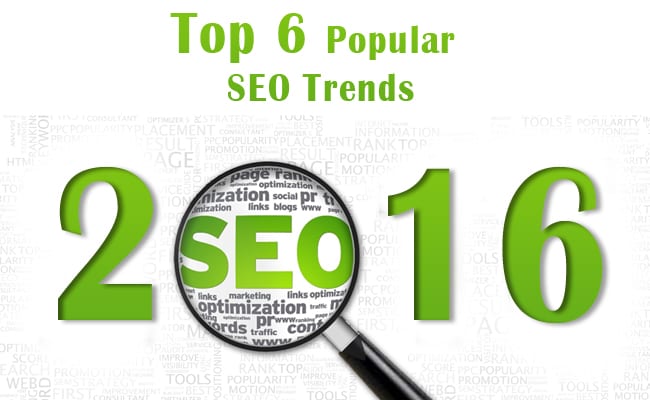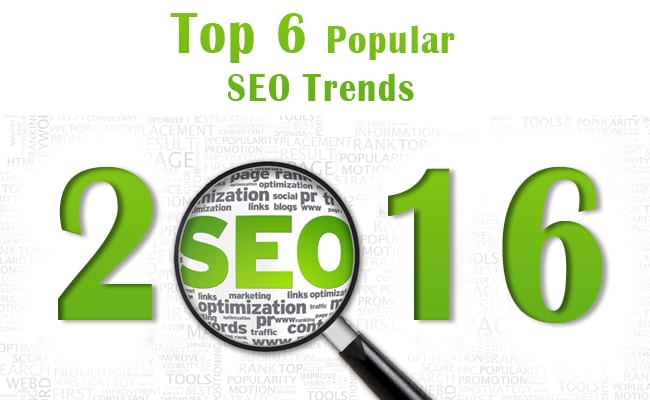 Digital marketing and SEO trends are ever-changing aspects that majorly depend on the constantly changing/evolving algorithms of the popular search engines. Some trends stay put for a long time, while some need to be eliminated or transformed to suit the evolving SEO trends. We bring to you some popular SEO trends of the year 2016. Read more to find out
1. Content still holds importance
Content has always been an essential part of SEO marketing, seems to be a part in the future too. Care should be taken that the content should be engaging and must suit the brand and its products and services. Using the right keywords and in the apt proportion will ensure the website ranks higher in the search engines. Make sure the content is backed by videos, images, and graphics that go best with the content.
2. SEO should be mobile-friendly
Undoubtedly, mobile users have gone up the popularity chart exponentially, and so is the need to develop SEO that is mobile friendly. Most search engines prefer websites that are mobile friendly. It is said that if your website is not mobile friendly, then you might lose up to 30% traffic as compared to your competitor sites. Hence, for a brand that wants a strong digital presence, it is good to have a good mobile friendly website. More so, transforming your website into a mobile-friendly one does not require much investment.
3. Mentioning the brand name in the keyword title
Google search engine algorithms have changed and prefer content title that has the brand name specified in the keyword. Such content is ranked higher, thus transferring the required traffic. Also if the brand product/service is popular among the masses, it would be good to mention all these basic elements in the title keyword.
4. Growing importance of visual-based SEO
These days, videos and pictures including animations are performing well when it comes to engaging SEO initiatives. Short and crisp texts that are backed with good quality images and visuals get top priority among the search engines. Such SEO can be used on social media sites too, to lead the customers to the company's website.
5. More emphasis on social engagement
Along with having a website, it is also important that a brand has a social media presence. Regular updates, tweets, and images/videos posted on the social media profiles, that are directed to the website are sure to increase the popularity of the brand, and engage more and more consumer traffic. That said, SEO initiative so social media platforms also act as direct communications with the consumers, thus making it easier to get their feedbacks, queries, etc.
6. Offering online security to consumers is very important
Be it an e-commerce site, or a site that needs registration of the consumer's confidential details, it is always advised that the website offers utmost security to the consumers. Websites with accurate and good security measures are often ranked higher in online search engines. Hence, it is important to offer consumers online security.