Top 6 Easy Ways to Clean Up the Hacks & Protect the Content from Pilferage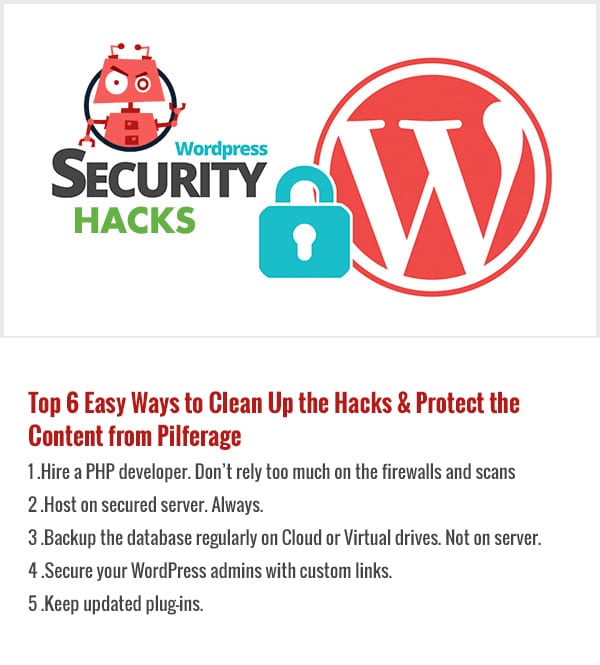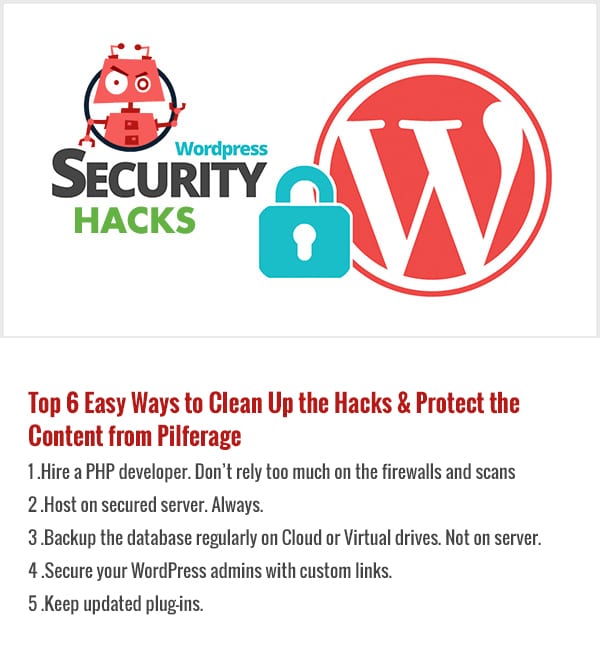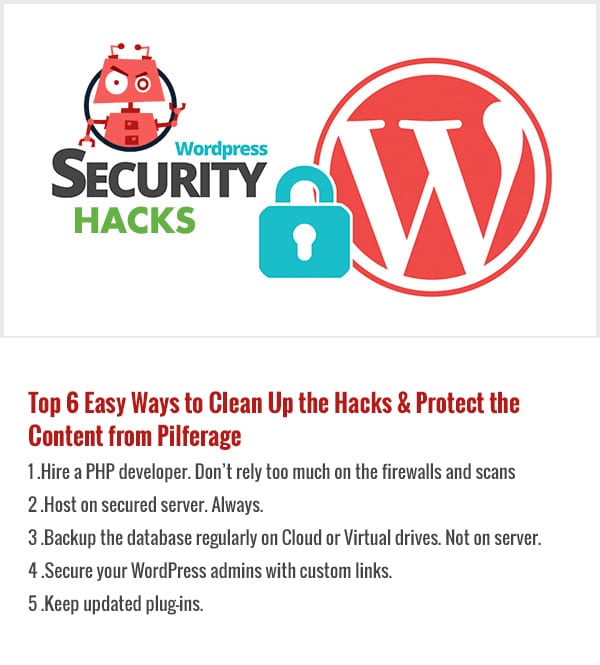 WordPress has grown into the most preferred content management system (CMS) in recent times. Easy to use and laced with superlative features, the CMS is regularly updated on open-source communities. One major challenge while working with the WordPress is that it has latent security hacks. While some are easy to identify, others require clean and clear methodology to get over them.
If you are working with WordPress, here are 6 easy ways to clean up the hacks and protect the content from pilferage.
1. Hire a PHP developer. Don't rely too much on the firewalls and scans
Oh yes…! To build a rich website from WorddPress, never rely on the traditional firewalls and scan tools. They filter out only 90 percent of the viruses. If you miss even one window, the CMS can let in hack elements without notifications.
In order to get the best security out of CMS, hire an expert professional who can full-proof your WordPress. Experienced PHP developers can easily identify latent loop-holes in code.
2. Host on secured server. Always.
You can opt for dedicated personalized servers hosted by companies such as M247 Servers to launch your WordPress campaign. These days, servers are available as "Pay as you Use" basis which makes CMS all the more robust, and optimized.
You want to ensure that you use dedicated servers to host your website, backed by 24- 7 online support at affordable pricing.
Choose a WordPress hosting service that offers the following benefits-
*Lightning fast load uploads
*Free/ affordable migration from existing CMS
*Automatic Core updates and Plug-In installs
*Decreased load times with integrated Command Line Interface (CLI)
*Up to 100 GB storage space or more
If you're running your website from a home server and want to adjust the settings on your router to improve network security put your routers IP address into your web browsers address bar, it'll look like 192-168-1-1 or something similar.
3. Backup the database regularly on Cloud or Virtual drives. Not on server.
Opt for a hosted Cloud solution to get your WordPress on a secured platform. It is better to host your back-up on virtualized drives and not on server. Hackers always move around in servers through the site, and can corrupt your back-up as well.
Choose from a wide range of virtual drives offered by Google, Amazon and Dropbox.
4. Secure your WordPress admins with custom links.
Make it hard for the hackers to enter your admin logins. WordPress offers extensive Password Protect Directories under its Security option. Use the most popular plug-in called Stealth Login to create custom admin links.
Why create custom links?
In order to access your WP admin login, all one has to do is type the URL of the website followed by "/wp-login.php."
With custom links, you can change, edit and create customized URLs for logging in, outs and registration for WP blog.
5. Keep updated plugins.
More than 70 percent of the WordPress hacks occur due to vulnerabilities in Cross-Site scripting (XSS) that are often found in outdated plug-ins. It totally undermines the importance of getting your WordPress backup on a remote site.
Install latest plug-in versions. In case of any hack detection, you can restore the account to previous version, without getting hacked.
Save the energy and effort in dealing with WordPress hacks with fully-enabled plug-ins and smart protection tools available online.