A look at Top 5 Advantages of a WordPress Site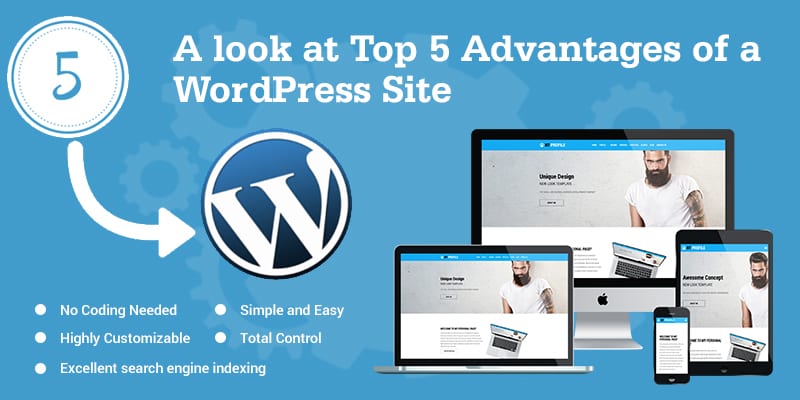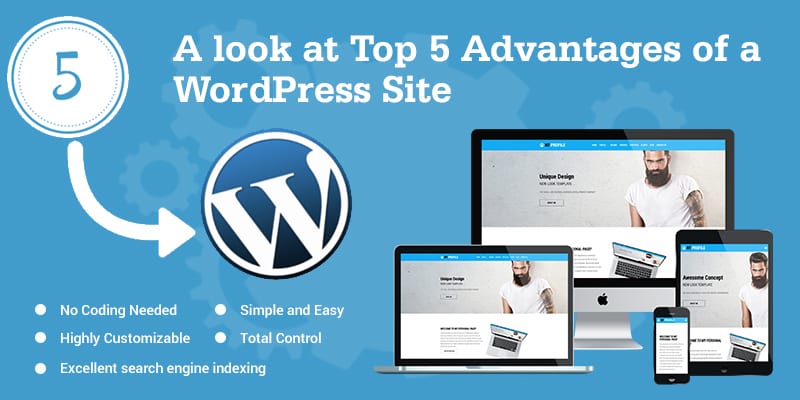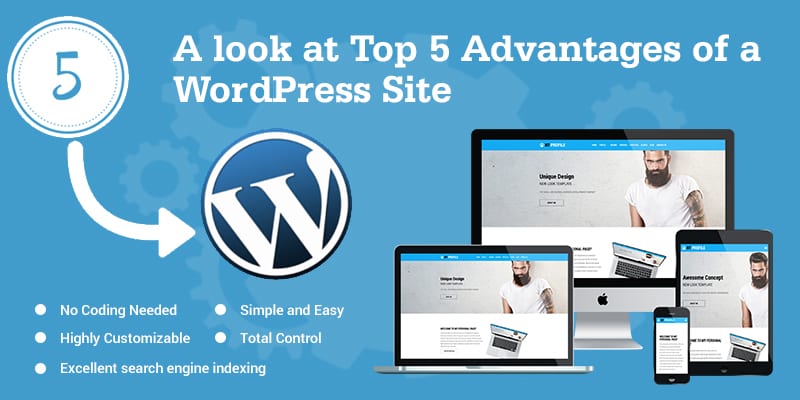 Whenever a person intends to showcase a product, a business or any idea to people through the internet, the first thing that comes to mind is a site. Having your own site gives you the power to reach out to unlimited number of viewers apart from the target audience. The idea of a site also brings with it the complexities involved in building one as most people have little know how of the designing process. Most of are the view that building sites is not their cup of tea as it needs the knowledge of coding.
Luckily, there is a tool that enables you do all that without any knowledge of HTML coding required. WordPress came to the scene in 2003 basically as a blogging platform but has since then expanded to become a complete site builder and content management software. With plugins like elementor, a drag-and-drop page builder, it has been simplified so anyone can have a website. It provides you with all the tools to start building your blog or site in the easiest manner possible. There are several advantages of using WordPress as a site builder. Let's take a look at the top 5 advantages of a WordPress website design.
1. No Coding Needed
Yes, starting a website with WordPress does not require the knowledge of codes needed in traditional website development software. WordPress gives you the complete toolkit right from the design of your site to the content that it shows and how it interacts with the users. You won't ever need to write a code in a HTML editor. All you need is a few clicks from your mouse and your site starts taking shape.
2. Simple and Easy
Since WordPress web design doesn't need you understand or implement a code, it makes the site building process awfully easy even for a beginner. Creating your content is simple and editing or formatting it equally simple as well. You can easily drag and drop images, videos, music files to your page or post and edit them at any point of time with just the click of the mouse.
3. Highly Customizable
Wordpress sites are highly customizable and give you the flexibility to change how your site looks and feels. There is a huge design theme library to choose from. This helps you customize every aspect of the site interface according to the content. So, If you are looking for the best website builders for wordpress CMS, you can get started with WordPress.
4. Total Control
Wordpress gives you complete control over your content which can be modified in real time to show the updates almost immediately. The beauty of this is that each post or page can be edited or deleted as per the author's will very quickly. There are a variety of formatting options for textual content as well.
5. Excellent search engine indexing
Search engines use keywords and site codes as the basis of indexing sites. The higher the indexing, the higher up a site ranks in a search result. The code used to create WordPress is very simple and clean which helps various search engines to easily index the sites built through WordPress. It also gives you the facility to use keywords as tags on an image, textual content or a video to help optimize the whole content for search engines. Therefore, smart content leads to better SEO with minimal effort.