[INFOGRAPHIC] Optimizing Your Website for Mobile Viewing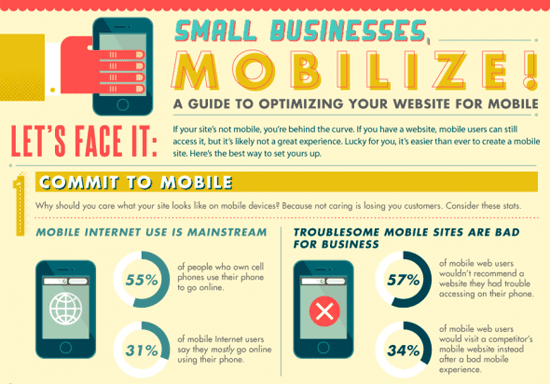 In the age of "always on" and "on-the-go," small business owners who haven't thought about how their websites function on a mobile phone are in danger of being left behind. Fifty-five percent of smartphone owners use their phones to go online, and 57 percent wouldn't recommend a website they had trouble accessing on their phone.
So, how can you optimize your website for mobile browsing without the hassle and cost of a developer or engineer? We've compiled some helpful tips and guidelines in the infographic below. Just click to enlarge!
– – –
WittyCookie is an award-winning digital agency that specializes in affordable web design, graphic design, and SEO solutions to help small businesses grow.
Service plans start at just $19/month, all-inclusive with web design, web hosting, email setup, ongoing maintenance, and unlimited updates. We charge no setup fee, no cancellation fee, and no term contracts with a full money back guarantee.
Visit wittycookie.com to get started.