Top 5 Things to Focus before Starting Website Development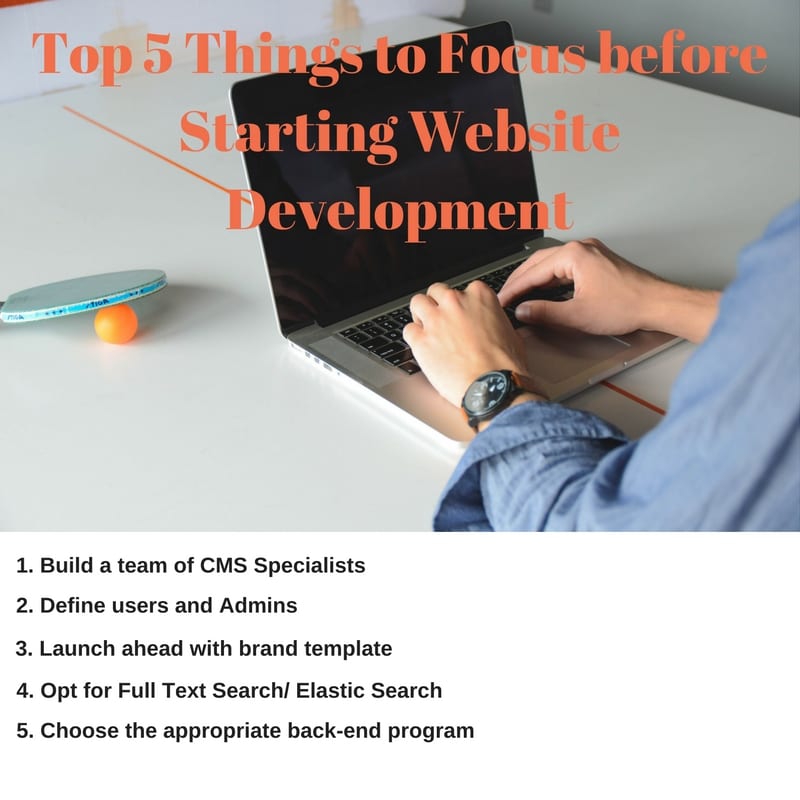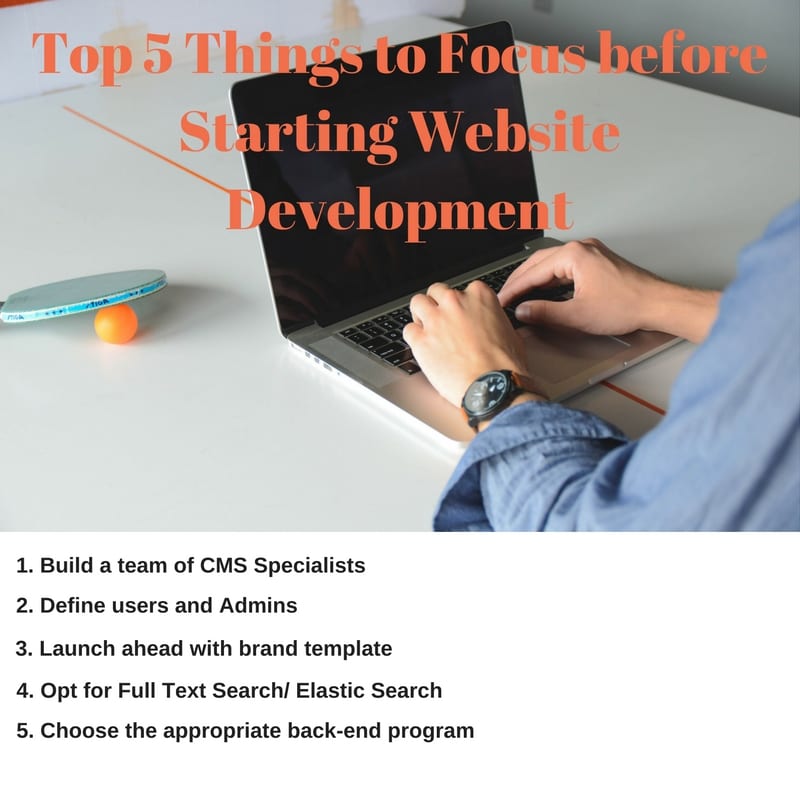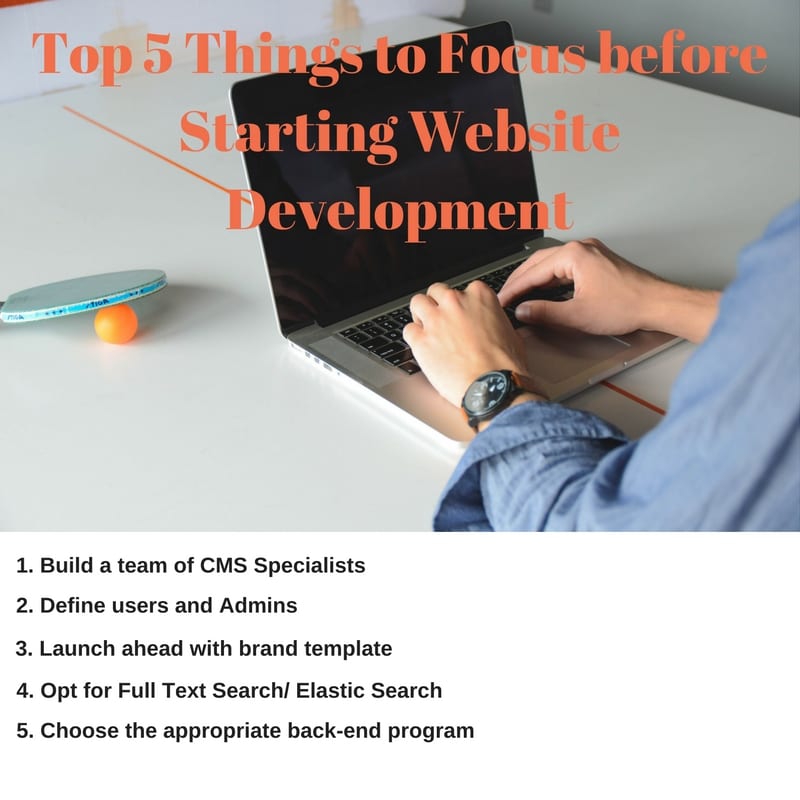 Choosing the right CMS is the most important aspect of building a website. It could or break the potency of your business unlike any other platform. Using a CMS definitely helps you take a totally new perspective at your website development plans.
Jump-start your Start-up website using never-fail CMS Web development tips.
1. Build a team of CMS Specialists
It all starts with the staffing who will give wings to make it large online. CMS Web Design team comprise of—
– Digital strategist
– Content strategist/ manager
– UI/UX architect
– Technical architect
– UI/UX designer
– Front-end Developer (FeD)
– Back-end programmer/ engineer
– Test Engineer
– Project Manager
These positions are critical to the success of website development and maintenance.
2. Define users and Admins
In CMS Web development, your content management team should be able to separate admins from the users. IN terms of usage and access authority, here are three categories that you need to define—
     >> Normal users
Data collection team that can search, edit and publish files and store them in archives/ libraries. They don't have access to program and project files.
     >> Super-Editors
They can do everything like the normal users, in addition to accessing the CMS files from the libraries.
     >> Super-Users
They are special class of editors who can change the style sheet and formatting layouts without changing the account settings. In normal CM Web development team, there could be just one Super user who reserves the privilege to standardize and regularize all CMS-related activities.
3. Launch ahead with brand template
CMS like WordPress and Drupal offer extensive range of templates and interactive tools that totally eliminate the need to start web development from the scratch. From coding to development, everything occurs with minimum fuss. For richer appeal, you can integrate PHP codes to boost the features using user-friendly interface.
With over 100,000+ templates available online, you can opt for customized website appearance that goes well with your brand image.
4. Opt for Full Text Search/ Elastic Search
Most CMS don't come with Full Text Search on Text Indexes. Using full-text search empowers the CMS developer to pick only relevant keywords from the data base that can be used instantly. Full-Text search on MySQL is supported by additional functionalities like Stop Words filter, stemming and ranking.
It makes it easy for the users to launch their content management based on Full-Text search running on Document Tree window.
5. Choose the appropriate back-end program
This is the meat of your CMS website development strategy. Depending on your business expertise, you can opt for PHP, Perl, Java, ASP.NET, Apache, Daisy, Ruby on Rails and even SaaS from leading CMS proprietors.
Ensure that your CMS is compatible with RDBMS—HSQL, MySQL, Apache, Hadoop, Oracle and Microsoft SQL Server.
Be it designing or the content organization, prolific CMS come with in-built and scalable technologies and features to get your business up and running—at lightning pace and sans flaws!