Top 5 Amazing Ways to Create Responsive Websites Using CMS Web Designing Techniques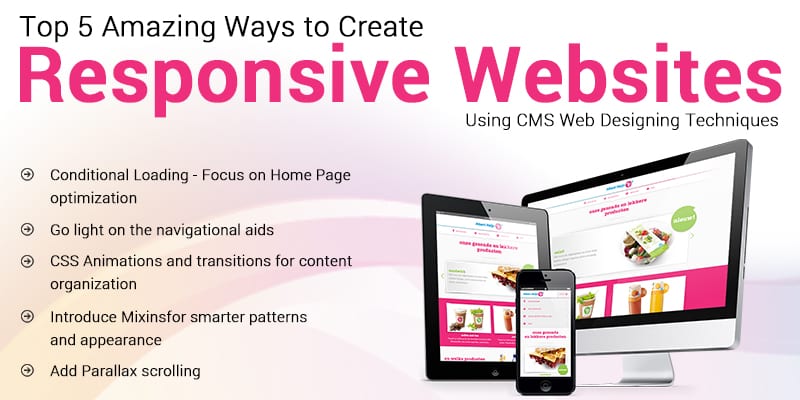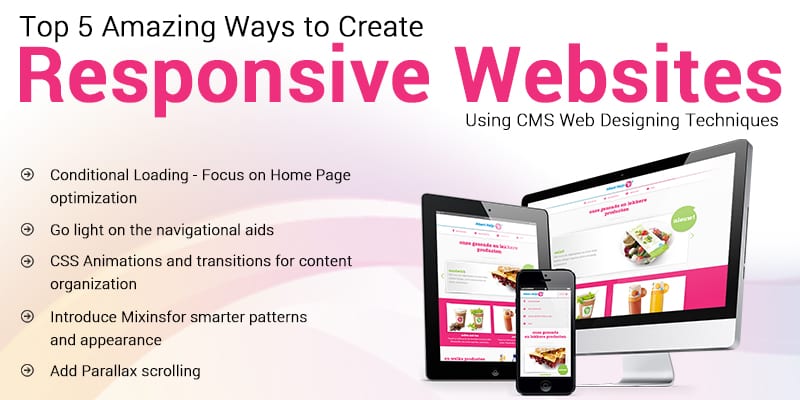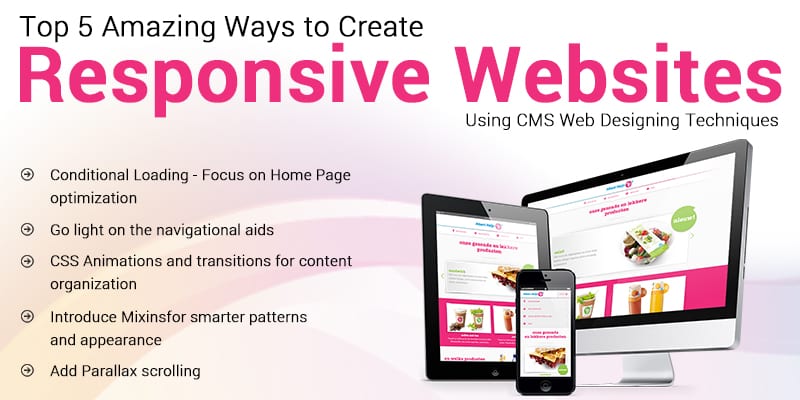 Powerful websites offering extensive interactivity and real-life experiences always rule the roost in digital. Online customers are instantly attracted to websites that open flawlessly across multiple devices without losing their consistency and message. CMS Web designing is a hassle-free way to raise such websites in shortest possible time.
Here are 5 amazing ways to create responsive websites using CMS Web designing techniques.
1. Conditional Loading– Focus on Home Page optimization
Create feature-rich home page with desktop-centric/mobile screen optimized homepage with Conditional Loading technique.
Home page is your expressway to success. From generating leads to opening up the gateways to subsequent webpages, CMS Web designing tools are offering wide range of Home page templates. WordPress, Joomla and Drupal—developers now create customized homepages that not just look attractive, but also provide alluring insight into the brand image.
Advantage-
Mobile users will see useful links directly, while desktop users get multiple search results.
2. Go light on the navigational aids
Contemporary websites feel lighter and faster. Thanks to robust CMS Web designing tools, the navigational aids no longer feature as incessantlyas in older websites. With less than three navigational items, you can still create fairly smart website with listed and grid templates.
Use of Jquery makes such websites swift leaving no scope for adding extra navigational pages. Save the space instead for valuable information.
3. CSS Animations and transitions for content organization
Build your responsive website using CSS animation tools that eliminate the use of Java Script or Flash for all the good reasons. You can target special elements on the webpage with enticing appearance—glow, ticker, bold, or even highlight.
There are multiple options to control animation speed, delay and appearance. All of these properties can be customized.
4. Introduce Mixinsfor smarter patterns and appearance
Developers working on popular CMS website designing platforms may explore the possibility of introducing Mixins. Mixin is a software program injected into reusable codes for multiple inheritance. You can convert hex values of colors to Mixin library to create a richer and more brilliant platter of shades for website. You can have your own defined fonts and grid-patterns created using Single Class items mixed with LESS file or dom.
5. Add Parallax scrolling
Popular CMS Web designing platforms like WordPress offer Parallax scrolling in their coding. There are two types-
Horizontal/Vertical
Hybrid
The use of Parallax scrolling gives an illusion of 2D and 3D effect. Optimizing Parallax scrolling for websites using CMS Web designing techniques can drastically improve site's performance by using SEO and back-link techniques.
World's most reputed brands and websites use this booster techniques to create dynamic interfaces.
Here are some examples-
Using the right CMS Web designing elements can make a huge difference to the look, feel and appeal of the website. Depending on the degree of responsiveness you wish to give to the website, these techniques can be mixed and scaled to fit into all possible screen sizes with flexible, clean and feature-rich adaptations.