Building Great Websites – What Works and What Doesn't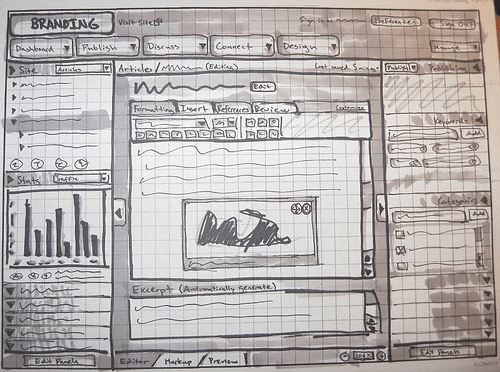 Unlike your shop front, office or warehouse, your website remains conveniently open 24 hours a day, seven days a week, and allows you to reach local, interstate and international clients. A good website also enables your small business to compete on the same footing as much bigger organisations; and it helps shape customer perceptions of your business.
Why is a good website so important?
A good website can be a powerful, dynamic resource for a small business, giving you an online presence that can be seen by millions of potential customers.
The benefits of having a website will vary depending on the nature of your business, and the extent to which you choose to utilise available technologies. A website can help grow your business through:
1. Improving your brand reputation – The look and feel of your website and a good or satisfying user's experience can help instil a level of trust in your business with customers and prospects and establish you as credible and professional. The internet also offers the opportunity for a small business to portray itself as or comparable to a big business and thereby compete on a more level playing field.
2. Cost effective marketing and promotions – A website enables you to promote your business more cost effectively and in a more sustainable long term way than through more traditional offline methods. You have ability to update add to and change your content with minimal additional cost, reach a wide audience, capture and build a database of leads, conduct market research and generate interest through hosting competitions and promotions.
3. Market expansion – A website can be accessed anywhere, any time. This means a vast number of potential customers can find and reach you, even on a global scale, without overhead costs and infrastructure needed to set up a bricks and mortar presence in those markets.
4. Selling while you sleep – Because the internet never turns off, your website enables you to increase your hours of operation.
5. Add value and satisfaction – You can use your website to provide additional value to customers by offering them product information, tips, advice and general interest content that can inform and entertain.
6. Reduce cost of sale and processing – Many of the overheads associated with making sales to customers face to face can be reduced when selling online giving favourable economies of scale.
What works? Desirable website attributes
Site visitors on average will only spend a few seconds on your site before deciding whether or not to move on. This is why it is important to know and follow best practices for website design and to know what customers consider as desirable attributes in terms of content, functionality and interactivity.
Note: some of these factors will be universal in nature and some may be very specific to the industry in which you operate. You need to know about and address both.
Much research has been conducted into what users want from a website. If you have the time you can delve in detail into many aspects of design and content such as the optimal font size to use and the order and placement of various items and functionality. Below is a summary of the most common findings from the many studies on this topic:
1. Personalization – this is when a website treats each visitor as an individual, recognises visitors when they revisit and delivers information based on the visitor's preferences (this is done technically through user registration and login, cookies, customisation of dashboards, etc). Personalisation enables greater targeting of information, increases relevance and enhances the user experience.
2. Interactivity – empowers users with the ability to determine what, how, when and why they consume content as well as the ability to create their own content. Interactivity not only enhances the user experience, but also encourages users to contribute to your brand, forging stronger and more loyal relationships. Some studies show that the higher the degree of interactivity, the higher the website's attractiveness and that the level of interactivity can be important when trying to convert site visitors from "lookers" to "buyers".
3. Informativeness – this refers to the degree of useful the information provided is perceived by the user. Is it what they were looking for? Is it easy to understand? Does it address their question of "what's in it for me"? In other words, how your offering will benefit them.
Increasing the usefulness and relevance of site content can be done simply through providing product /services support information, contact details, regularly refreshing content, removing expired information, including relevant keywords so user can quickly determine the relevance to their search and a clear 'call to action' so the customer understands what the next steps are.
4. Navigation – refers to how easily users can find what they are looking for. Generally speaking, the more complex and difficult a site is to navigate, the lower the user's attitude towards the site.
5. Privacy and security – this relates to how customer and transaction data is collected, processed and used. Ideally, websites should provide security and privacy statements, secure payment gateways and have full disclosure statements for warranty, returns policy and liabilities.
6. Entertainment – many researchers have suggested that the effectiveness of a website can depend on how well it engages the attention of visitors by being fun, exciting, enjoyable or entertaining. This can also encourage visitors to continuously return to the site and spend longer exploring the rest of the site.
7. Accessibility – is the ease by which visitors can reach the site. Factors such as poor download speeds and long lag time can be a source of irritation for users, which then may also reflect negatively on your brand and offering.
– – –
WittyCookie is an award-winning digital agency that specializes in affordable web design, graphic design, and SEO solutions to help small businesses grow.
Service plans start at just $19/month, all-inclusive with web design, web hosting, email setup, ongoing maintenance, and unlimited updates. We charge no setup fee, no cancellation fee, and no term contracts with a full money back guarantee.
Visit wittycookie.com to get started.